Early Life:
Steve, was born in Philadelphia, PA on April 7th, 1961 as the oldest of three sons to Russell and Betty Rickert. He was a precocious, and adventurous child. As a boy he loved visiting and working on his uncle's farm in NC every summer with his family and attending Boys Brigade (a Christian youth group like the boy scouts).  Both of these activities shaped his lifelong love of the outdoors.  As a teen his many hobbies including camping, hunting, shooting skeet and flying with his dad Russ.
Steve attended Abington High School in Abington PA. He was on the school's Rifle Team and lettered in the sport.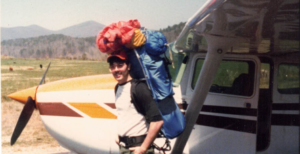 After graduating High School in 1979, Steve decided to hike the Appalachian Trail. His Dad flew him to Georgia and he started the hike north. In Tennessee his hiking progress was stalled when his backpack broke and he spent time waiting for the part at a white water rafting business on the Nolichucky River. He was invited to stay and become a raft guide, so he traded his hiking boots for a paddle and spent the rest of the summer whitewater rafting and kayaking. Over the years he continued to hike sections of the trail.
He briefly attended Temple University before deciding to join the Air Force.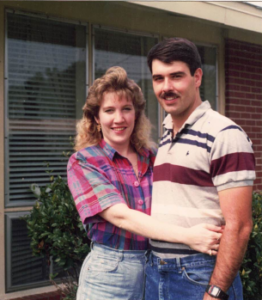 Family:
Steve and Joan met at Abington High School, and were high school sweethearts and they married after Joan graduated from Philadelphia College of Art and Steve had returned from his first Air Force assignment in Galena AK, on July 9, 1983.  They have 2 sons, Jeff and Kevin. Jeff was born March, 21, 1987 at Seymour Johnson Air Force base in Goldsboro, North Carolina. Today he is a brewer at Ginger's Revenge in Asheville NC. Kevin was born July 2, 1994  while they were station at Eielson Air Force Base in  Alaska, He is an IT Specialist at Multi-View Incorporated in Hendersonville NC.
He was  active as an assistant Boy Scout leader for both his sons Jeff and Kevin's scout troops. A highlight of Scouts was when Jeff and Steve went to Philmont Scout Reservation. Jeff's Eagle Scout project, helping with Pinewood Derby and Scouts summer camps with Kevin.
Steve shared his love of outdoor activities, hiking, camping, snowmobiling, flying, fishing, and exploring each new place they lived in. Shooting was one of Steve's favorite hobbies and he passed on his love of shooting to his sons, the same way he did with his younger brothers Dave and Andy years before. The boys both enjoy shooting sports today as adults.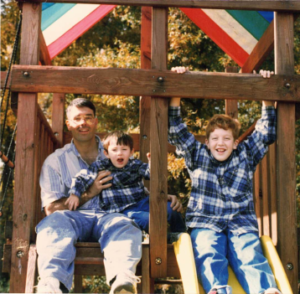 Civil Air Patrol: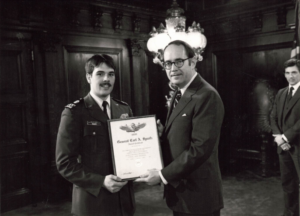 Steve's dad Russ was a private pilot and was a member of Civil Air Patrol. He taught Steve to fly. Steve joined CAP which combined his interest in flying, search and rescue and camping. Steve started in Squadron 902, based at Willow Grove Naval Air Station in Horsham PA., but transferred later to squadron 904 based in Quakertown PA.  In CAP he excelled at leadership and became a Ranger at Hawk Mountain Ranger School.  In 1981, he received The Carl Spaatz Award, which is the highest cadet award in the program.  Steve went on to his private pilot license.  As an adult he continued with CAP when he could and helped with the local squadrons in NC, DE and AK.
US Air Force: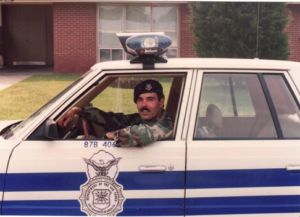 Steve joined the Air Force in 1981.  After basic training he became a Security Policeman and was stationed at a remote site Galena, Alaska.  He loved the wilderness of Alaska and spent his free time hunting and camping. His next assignment was Seymour Johnson in Goldsboro NC. While at Seymour Johnson, Steve was as a Security Policeman and investigator.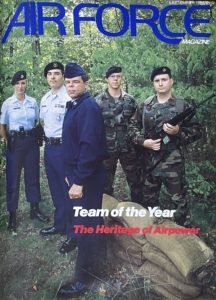 He achieved many prestigious awards including
1984 1985 Tactical Air Command at Peacekeeper Challenge -Earning gold, silver and bronze metals.
1989 John Levitow Honor Graduate from NCO Leadership School.
1989 1990 Top Gun for handgun and rifle at Contending Warrior
1989 One of five members of Air Force's Security Police Team of the Year
1989 Tactical Air Command's Non Commissioned Officer of the year
At Seymour Johnson he received an Associate Degree in Criminal Justice from the Community College of the Air Force and then to St. Leo University and earned his bachelor degree in human resources administration. As a college
graduate, he applied and was accepted into Officer Candidate School (1991) and became an Air Force Officer.  As a new lieutenant he headed back to Alaska to Eielson AFB where his career field changed to Information Management and he worked in the environmental information management section and directed superfund public relations. His next assignment was Dover AFB (DE) where he added his third AF specialty as a Services Officer. As a services officer, he was also assigned to Barksdale AFB (LA), Arnold Engineering and Development Center (TN) and deployments to Kuwait and Saudi Arabia. One of Steve's funny stories dealt with having a camel roast for the base in the middle of the desert.  In Steve's final overseas posting at Lajes Field in the Azores, he became a Services Commander overseeing the base's Lodging, Dining and Recreation facilities.  Steve's last assignment was in Services Inspector General at Langley AFB (VA).  He retired in 2007 as a Major after 25 years of service.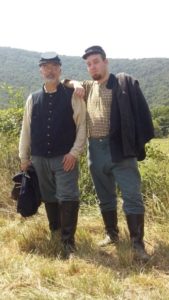 Post-Air Force:
Steve and Joan had decided to retire to the NC mountains and settled near Asheville. Steve started his second career as the Housing Director at Rumbling Bald resort on Lake Lure. His Air Force experience as a services commander translated perfectly to the Civilian world.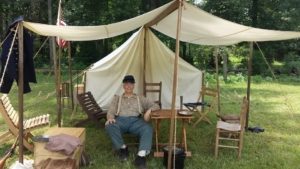 Steve continued his love of the outdoors and shooting in retirement. He became active again in a Civil War reenactment group which combined his love of history, shooting and camping. He also took up Cowboy Action shooting as well as trap shooting.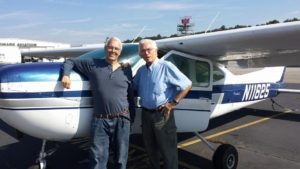 In 2010, Steve decided to take 2 weeks off from Rumbling Bald and fulfill a dream of flying cross country with his father, Russ.  They had been talking about this trip for years and Steve decided the time was right.  They flew from Asheville NC to  Blythe, CA and then from CA to Philadelphia PA.  It was a great experience for both of them and they had a lot of great stories to tell.
In 2012 our family received the devastating diagnosis that Steve had stage four Pancreatic Cancer. Steve fought with amazing courage and a great attitude. He continued to enjoy as much of life and his favorite activities as he could. He lost his battle with cancer in 2014.
In 2017 our family decided to hold a Sporting Clay Fundraiser to honor Steve and raise money for the Lustgarten Foundation for Pancreatic Cancer research.  We decided a shooting event was the perfect fit.  That first event was a success and after our second event in 2018, our family decided that the event was going to continue and in 2019, we started The Steve Rickert Memorial Foundation to help the event evolve and grow.