Interested in sponsoring the event? 2022 Available sponsor packages.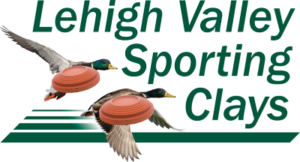 Never heard of Sporting Clays before?
Sporting clays is one of the fastest growing outdoor activities in the country.  The course is artfully etched into an abandoned 1800s cement quarry, and you'll enjoy Lehigh Valley's stunning grounds, helpful staff and elite target presentations distinctly designed to blow other sports away.  Not skeet, not trap … think golf with a shotgun. Join one of the fastest growing sports the whole family will enjoy.
Sporting clays originated in England and was created to provide a recreational activity for hunters and individuals who enjoy shooting sports. Each station is in a different setting and has a variety of target presentations. This keeps the sport not only interesting but also challenging.
Is sporting clays like skeet or trap shooting?
The only similarity is the use of a shotgun to shoot clay targets. Sporting clays is designed to simulate field shooting and mimics the flight path of gamebirds (flushing, crossing, incoming), as well as rabbits rolling across the ground. You'll move from station to station where new target presentations are thrown in pairs (usually 3-4 pairs per station).
Do I need experience?
No! Our course will be the Green course, which is specifically recommended for Beginners. Even if you've never held a gun, our instructors will have you breaking targets in no time!
Can I bring my own gun?
Yes. If bringing your own shotgun, please note the following:
Barrel Length Required:
MINIMUM of 24″ (Exceptions will be made for youth and disabled individuals.  Must be approved by RSO or Management.)
Pistol grips or collapsible stocks are NOT ALLOWED
Convertible/combo/hybrid semi-auto/pump shotguns – NOT ALLOWED
Recommended:
Semi-automatic or over/under shotgun; 12ga is the most common. However, a 20ga, 28ga or .410 shotgun will work, as well.
Open choke (i.e. skeet, improved cylinder or light modified.)
Do I need to bring anything?
Close-toed shoes are recommended for your safety.
Bring sunglasses or eye protection, if possible. Eye protection is available for purchase at the clubhouse. Please note, polycarbonate lenses or glass that is at least 2.00mm thick in the center of the lens provides the best eye protection.
If you have any other questions, don't hesitate to reach out to us!